Customer:


a person or organization that buys goods or services from a store or business.




"Mr. Harrison was a regular customer at BC Hydro"
Neither a Mr. Harrison's dependents, nor his Home Stay students from overseas, nor his illegal suite tenants are mentioned as being 'customers'. They enjoy the benefits of BC Hydro electricity, but individually they don't buy the goods from the BC Hydro store. Mr. Harrison does.
BC Hydro's Quick Facts
advertising on a two page document claim they have 4 million customers on page 1 and on the back side the number is less than two million.
http://www.llbc.leg.bc.ca/public/pubdocs/bcdocs/358355/

index

.htm
Page 1: 4.0 Million (2015)
Page 2: 1,935,254 (2015)
BC Hydro definition of its Customers:
Residential, Light industrial and commercial, large industrial, Other, Trade
Sales in Quebec December 2010 and 2011: GWh

169,966

and

169,495

Sales Quebec Export to Canada and United States 2010 and 2011: GWh

23,270

and

26,763
BC Hydro: GWh Between 43,000 and 56,000
Site C
4,600

GWh
$$$$$$$$$$$$$$$$$$$$$$$$$$$$$$$$$
Serving 95% of the Population?? 5% Fortis??
BC Hydro is

one of the largest electric utilities in Canada, serving 95 per cent of B.C.'s population

and delivering electricity safely and reliably at competitive rates to approximately 1.9 million customers. Nearly 90 per cent of customer accounts are residential, with the remainder either commercial or industrial. Each of these three groups consumes roughly one third of the total electricity supplied. (roughly one third each??)

Over 95 per cent of the electricity generated by BC Hydro comes from hydroelectric facilities (IPP included??), which are located throughout the Peace, Columbia and Coastal regions of B.C. Three thermal generating plants produce the remainder (Diesel too??).
BC Hydro: One of the largest electricity utilities in Canada??
8 (Eight) from North America have been chosen by BC Hydro Chairman Brad Bennett.
Quebec Hydro's yearly comparison study uses 22, not 21, electric utilities.
The Two Asterisks??
Fine Print: ** Out of 21 22 North American Utilities surveyed for the 2014 Comparison of Electricity Rates in Major North American Cities by Hydro Quebec.
Interactive Map: The cost of Electricity, City by City
- William Wolfe Wiley
22 Cities across North America with
As of February 15, 2016
CBC (2011)
Quebec Hydro Powerhouse of Canada
BC Hydro asks the Question:
Have you ever wondered how our rates compare?
And then they cherry pick seven to show an upper trend without showing 22.
Calgary? Within the Top Seven?
Interactive Map data February 18, 2016 Calgary within Top Seven
Calgary within the Top Seven?
Only available in 2015?
Pity!!!!
https://www.bchydro.com/content/dam/BCHydro/customer-portal/documents/corporate/accountability-reports/financial-reports/annual-reports/quick-facts-for-year-end-march-31-2015.pdf
http://o.canada.com/business/markets/interactive-map-the-cost-of-electricity-city-by-city
BC Hydro's spelling of comparison as compaision .....?
Maybe the technician was using subliminal messaging: Compassion .... to help with BC Hydro's image?
https://www.bchydro.com/content/dam/BCHydro/customer-portal/graphics/info-charts-graphs/rate-

compaision

-infographic.jpg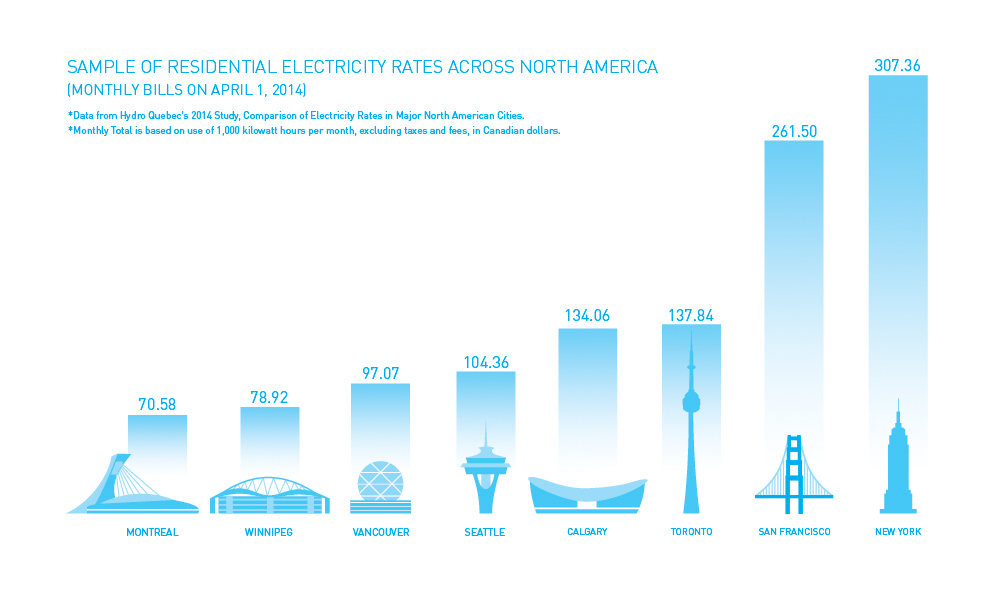 http://www.hydroquebec.com/publications/en/docs/comparaison-electricity-prices/comp_2014_en.pdf
Manitoba Hydro
https://www.hydro.mb.ca/regulatory_affairs/energy_rates/electricity/utility_rate_comp.shtml
Alberta power rates among highest in country;
deregulated market
blamed for price spikes
Google Search Criteria:
Why is Montreal and Winnipeg electric bills per kwh cheaper than BC
~~~~~~~~~~~~~~~~~~~~~~~~~~~~~
Residential Bill Calculations
One Month Bill For
https://www.hydro.mb.ca/regulatory_affairs/energy_rates/electricity/utility_rate_comp.shtml
@@@@@@@@@@@@@@@@@@@
Norman Farrell
In-Sight February 29, 2016
https://www.youtube.com/watch?v=flBjKoQJ9Q4&feature=youtu.be